mc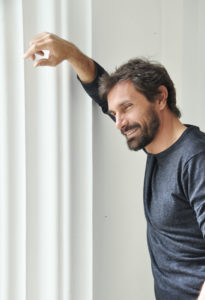 Born in Turin, Italy, Matteo Casalegno graduated with a degree in architecture at Politecnico (Institute of Technology) in Turin. He founded his first studio in 2001 working as an architect, interior designer and fashion designer. In 2011 all these activities merge together, giving birth to a new research field: design.
Research and aesthetics, materials and function, experimentation and techniques are the basis of his work.
He studies new forms of expression, sometimes borrowing techniques from other fields, sometimes using contrast, through a concept of aesthetics based on perfect imperfection, often bringing opposites together. The aim is always the achievement of something completely different from artificial perfection of mass­produced pieces.
A strong idea, techniques and materials become actors. Aesthetics and function come together in order to get a perfect balance in the uniqueness of every single object and project. Pure and precious materials compare to history, time and marks left by nature. Glass, wood, steel, stone, leather are instruments by which an idea born with the pencil becomes true. The project of a building, an interior design, the creation of a new object are all the translation of a thought into a functional emotion.
Today, his objects, strictly hand made and produced in limited edition, find their place into important private collections and take part in international exhibitions such as Design Miami/Basel, MIART Milan, PAD London.